Introducing the new
Fred Turoff Invitational
The Fred Turoff Invitational
​Held at Lincoln Financial Field, the premier sports and entertainment venue in Philadelphia!  We are excited to present the Fred Turoff Invitational to benefit the Temple Men's Gymnastics team and Philadelphia Boys' Gymnastics.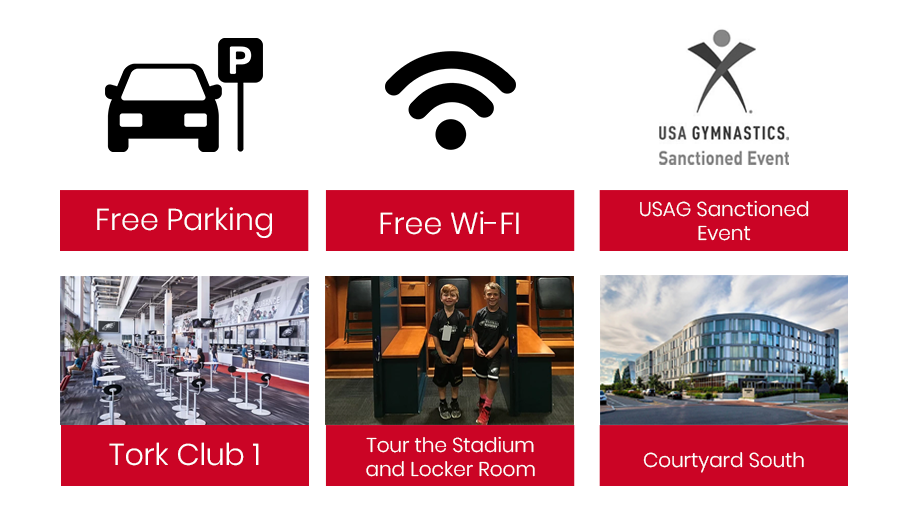 February 21-23, 2020
​Site: Lincoln Financial Field, Philadelphia, PA 19148 – indoors, of course, on the Tork Club Level.
​Entry fees: $110 per gymnast, $80 per team (payable online via Meetmaker). Special offer for early bird entries: take $10 off for each individual if entered by September 30. After January 15, a late fee of $25 is added to individual and team fees = $135/gymnast and $105/team.
Meet entry form: use the USAG meet registration system, which links to Meetmaker. Fees paid on Meetmaker. Registration opens August 1, 2019 and closes January 15, 2020.
Level/division changes: allowed up to Jan 31
​Refunds due to scratches: full refund up to Jan 15, 75% refund Jan 16-31, no refund after Jan 31.
​Parking: plenty of free parking in lot L
​Food: Full concessions and beverages provided by Aramark
​Host hotel: Courtyard South at the Philadelphia Naval Yard   1001 Interepid Avenue, Philadelphia, PA 19112.  Phone: (215) 644-9200. We have reserved 25 queen rooms at a rate of $122, excluding taxes, for both Friday and Saturday nights. The cutoff date for this rate is Friday, January 31, 2020.  Guests should identify themselves as part of the Philadelphia Boys' Gymnastics group.​ Use this link:
https://www.marriott.com/event-reservations/reservation-link.mi?id=1576689061220&key=GRP&app=resvlink
Admission fees:
One day – adult $15; student (6-17yo)/senior/military $7
Weekend – adult $20; student (6-17yo)/senior/military $10
Children 5&under are free
Teams registered for 2020 as of January 16, 2020:
Ace (PA), Aeon (NJ), ASAP (PA), Bright Raven (NY), CS (NJ), Centre Elite (PA), Champions United (NJ), Darien (CT), Force (PA), G-Force (VA), Hanover (PA), Head Over Heels (NJ), High Performance (PA), KMC (PA), Kennett (NY), Liberty Bell (PA), Maine Academy (ME), Meadowlands (NJ), Monmouth (NJ), Motion (NJ), Pancott (PA), Paramount (NJ), Parkettes (PA), Philadelphia Boys (PA), Pittsburgh Northstars (PA), Prestige (PA), Sunburst (NJ), Top Flight (MD), Upper Merion (PA), US Gymnastics Development Center 1 (NJ), World Class (NY), Yellow Jackets (MA).
Meet format:
Format of the FTI on Feb 22 & 23 (times include open stretch then modified Capitol Cup = warmup then compete on each event):
Sat session 1 8-11a L71 (25) + L72 (9); L8 (31) = 65 boys
Sat session 2 11a-2p L9 (50); JD2 (28) = 78 boys
Sat session 3 2:30-6p L10 (56) + JD1 (24) = 80 boys
Sun session 4 8-11a L61 (45) + L62 (21 boys) = 66 boys
Sun session 5 11a-2p L41 (35); L42 (47) = 82boys
Sun session 6 2:30-6p L51 (59); L52 (36) = 95 boys
Total competitors = 466 as of Jan 26